Arrow (2012)
Release Date: 18 January 2011 (USA)
Quality: HDTV
Format: MKV
Info: imdb.com/title/tt2193021/?ref_=sr_1
IMDB Ratings: 8.1/10 from 73,390 users

[Awards : 3 nominations]
[Production Co : Berlanti Productions, Berlanti Television, DC Entertainment]
Stars : Stephen Amell,
Katie Cassidy,
Colin Donnell |
See full cast and crew
Genre: Action | Adventure | Drama


Download Arrow Season 1 – Update Episode 23
Link
pass: botam
Subtitle Indonesia | English
Sinopsis:
Ringkasan Cerita ARROW (2012) SEASON 1 :
Setelah kapal
karam, playboy miliarder Oliver Queen hilang dan diduga tewas selama
lima tahun sebelum akhirnya ditemukan hidup di sebuah pulau terpencil di
Pasifik. Ketika ia kembali ke rumah untuk kota Starling, ibunya Moira,
Saudarinya Thea, dan sahabatnya Tommy yang menyambutnya ketika pulang,
tetapi mereka merasakan Oliver telah berubah drastis setelah menderita
di pulau tersebut.
Oliver berusaha menyembunyikan kebenaran
mengenai dirinya, dimana dia sangat ingin menebus kesalahannya. Terutama
ketika ia berusaha balikan dengan mantan pacarnya, Laurel Lance. Oliver
berusaha berhubungan dengan orang-orang terdekatnya, dimana secara
diam-diam dia menciptakan persona dari Arrow – beraksi sendiri untuk
menebus kesalahan keluarganya dalam memerangi penyakit masyarakat, dan
mengembalikan kejayaan Kota Starling.
Untuk saat ini, Oliver
berperan sebagai orang kaya yang hidung belang, riang dan ceroboh.
Dulunya dia selalu dikawal oleh sopir setia atau pengawal, John Diggle –
di sisi lain ia berhati-hati dalam menyembunyikan identitas rahasianya.
Namun,
ayah Laurel, Detektif Quentin Lance, bertekad untuk mengungkap operasi
aksi main hakim sendiri di kotanya. Sementara itu, ibu Oliver sendiri,
Moira, tahu lebih banyak tentang kapal karam yang mematikan yang
ternyata akibatnya lebih parah dari yang pernah ia bayangkan sebelumnya.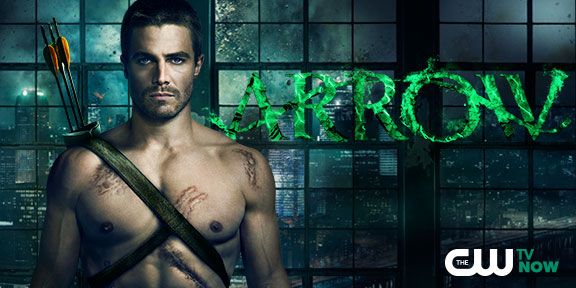 EPISODE 1: PILOT
Synopsis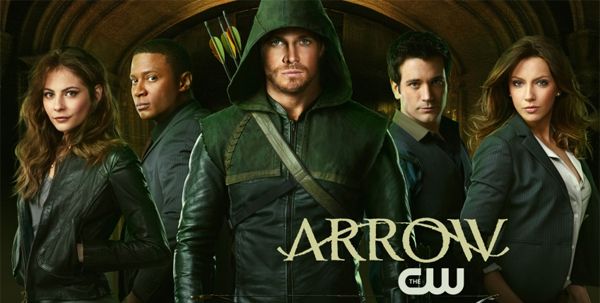 EPISODE 2: HONOR THY FATHER
Synopsis
Open
with Oliver Queen/Arrow recapping some of the pilot in voice-over. Cut
to Arrow beating up some guards and forcing a bad guy to make good.
Queen is to appear in court as part of legally coming back to life. On
his way into the courtroom Queen flashes back to the storm. He explains
to the judge what happened, saying that for those five years on the
island he felt he had to live for both he and his father. Queen's
declaration of death is rescinded. Queen runs into an angry Laurel
outside the courtroom. Queen watches the press conference of a man being
prosecuted by Laurel. Queen instantly gets free from his bodyguard
Diggle.
Download English Subtitle
Download Indonesian Subtitle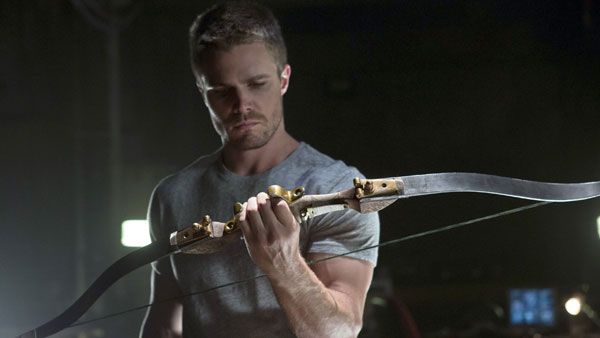 EPISODE 3: LONE GUNMEN
Synopsis
While
Queen trains, he explains through voiceover what Arrow is all about.
His latest target is James Holder (Tobias Slezak), responsible for
defective fire detectors in low-income housing. Arrow confronts Holder,
but someone else is watching through a rifle scope. Before Arrow can
finish his speech, the rifleman kills Holder and grazes Arrow with
another shot.
Download English Subtitle
Download Indonesian Subtitle

EPISODE 4: AN INNOCENT MAN
Synopsis
We
open with a little bit of the end of last week, as Arrow makes Diggs an
antidote for the poison from Dead Shot. For some reason Diggs decides
he should take a swing at Queen. Arrow explains he wants him to join his
mission, saying his background as a soldier is perfect. Diggs doesn't
seem interested and calls him a criminal and a murderer.
Download English Subtitle
Download Indonesian Subtitle


EPISODE 5: DAMAGED
Synopsis
After
Detective Lance arrests Oliver for murder, Oliver tells Moira the only
lawyer he'll allow to represent him is Laurel . Laurel takes the case
which puts her at odds with her father. Oliver offers to take a
polygraph in front Detective Lance but things get tense when Lance asks
him if anyone else was on the island with him. Oliver flashes back to
when he got his first scar, courtesy of Deathstroke.
Download English Subtitle
Download Indonesian Subtitle

EPISODE 6: LEGACIES
Synopsis
Open
with three men robbing a bank wearing masks. During the robbery they
shoot a man who turns out to be an off-duty cop. They escape through a
tunnel and outside two of the men argue over the ramifications of what
happened…
Download English Subtitle
Download Indonesian Subtitle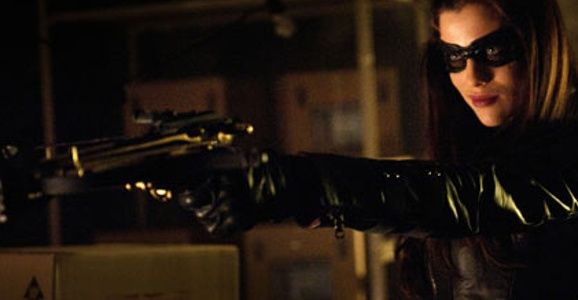 EPISODE 7: MUSE OF FIRE
Synopsis
After
a 'phone call from Thea (Willa Holland) reminding him that he is
supposed to be having lunch with his mother, Oliver goes to meet her for
on his motorcycle. Moira (Susanna Thompson) and a man named Paul Copani
(Ben Wilkinson) emerge from Queen Consolidated. Copani wants Moira to
go over a building contact, but she doesn't want to do business with
him. Suddenly another motorcycle drives up on the sidewalk and the rider
shoots Copani several times in the chest. Checking that Moira wasn't
hit, Queen chases the motorcyclist on foot and is almost able to catch
up with it before a passing truck interferes and the shooter escapes
cleanly…
Download English Subtitle
Download Indonesian Subtitle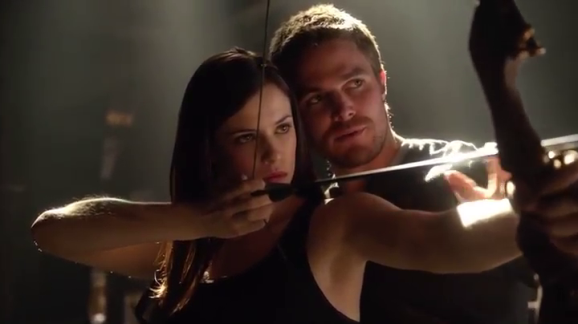 EPISODE 8: VENDETTA
Synopsis
Helena
wakes up in bed with Oliver. Thinking he is still asleep, slips out of
bed and changes into her Huntress gear. She drives to an alleyway where
China White escorts Zhishan to his car. Helena prepares to shoot him but
Arrow drops down and throws off her her aim. The Triads open fire and
drive off, and Helena berates Oliver for ruining her plan. She explains
that she planned to kill Zhishan and let her father Frank take the blame
so that the Triad would wipe out his weakened organization. Oliver
denounces the plan as reckless, and offers to show her the difference
between justice and revenge…
Download English Subtitle
Download Indonesian Subtitle

EPISODE 9: YEAR'S END
Synopsis
Adam
Hunt is on the phone trying to raise money for a deal despite the fact
that he was recently taken down by the mysterious Hood vigilante. An
unseen figure, who Hunt seems to recognize, makes an unexpected visit.
Hunt asks the visitor if he is here to extract another pound of flesh.
The intruder responds by firing an arrow into Hunt's chest, killing him…
Download English Subtitle
Download Indonesian Subtitle

EPISODE 10: BURNED
Synopsis
Open
at a huge fire. A person dressed as a firefighter shoots fire
accelerant at another firefighter, causing him to go up in flames. It's
been six week since Walter's kidnapping and Digs tells Queen there is no
update. They both realize he's likely dead. Digs wants them to get back
to work on the names in the book, but Queen thinks his family should be
his priority. We flash back to the island and Queen fleeing as soon as
Yao Fei begins to fight the masked man. He turns back and sees Fei
knocked out and carried away. Lance stops by with a representative from
the fire department to tell Joanna her brother Danny was killed a fire….
Download English Subtitle
Download Indonesian Subtitle

EPISODE 11: TRUST BUT VERIFY
Synopsis
The
next person on Arrow's (Stephen Amell) list is Diggle's (David Ramsey)
commanding officer and mentor from Afghanistan, Ted Gaynor (guest star
Ben Browder). Oliver suspects Ted is responsible for recent armored
truck robberies, but Diggle defends Ted and takes a job at Ted's
security company to keep an eye on him. Oliver decides to make a move on
Ted, which puts him at odds with Diggle. Meanwhile, Thea (Willa
Holland) suspects that Moira (Susanna Thompson) is having an affair with
Malcom (guest-star John Barrowman). Tommy (Colin Donnell) and Laurel
(Katie Cassidy) have an awkward dinner with Malcom.
Download English Subtitle
Download Indonesian Subtitle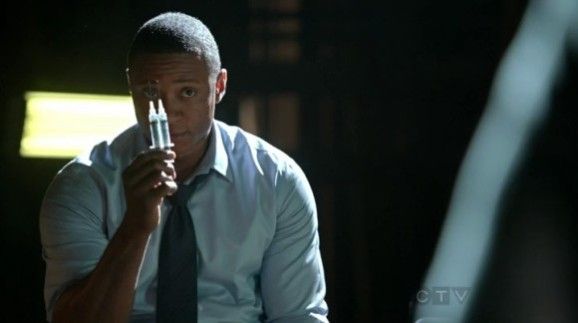 EPISODE 12: VERTIGO
Synopsis
Open
with Arrow chasing a drug dealer who sells something called Vertigo.
The guy admits he's supplied by someone named The Count. Queen tells
Digs how fired-up he is to get this Count. Digs reminds him that Thea's
hearing is coming up in a few hours. Outside the courthouse Thea is
bombarded by a huge media throng. Thea has worked out a plea arrangement
with the prosecutor but the judge denies the deal, saying he wants to
make her the poster child for the city's Vertigo problem.
Download English Subtitle
Download Indonesian Subtitle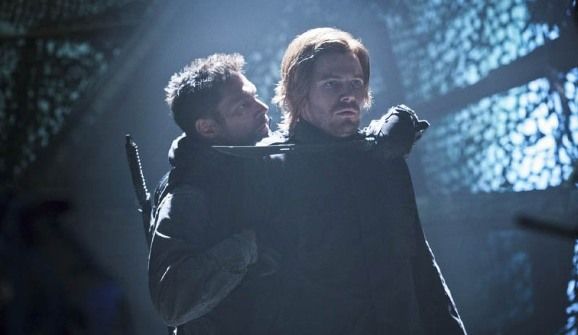 EPISODE 13: BETRAYAL
Synopsis
Open
with a man being released from prison into the arms of a female
companion named Vivian. He appears to be a crime lord of some kind,
immediately paying an underling a visit and killing him with a knife.
Queen shows Digs the book he got from Felicity. Digs thinks it's likely
Moira is behind Walter's disappearance. We see a flashback from the
island: Queen comes upon the remains of an airplane that is filled with
various kinds of supplies. A man drops from the ceiling and puts a sword
to his throat. Queen tells him he was sent there by Fei.
Download English Subtitle
Download Indonesian Subtitle

EPISODE 14: THE ODYSSEY
Synopsis
After
Oliver is shot, he turns to a surprising person for help – Felicity.
Diggle is stunned when he sees Felicity walk through the front door of
the lair dragging a dying Oliver behind her, and the two team up to save
Oliver's life. As Oliver hovers between life and death, he flashes back
to a seminal event on the island – a daring escape attempt with his new
friend Slade Wilson.
Download English Subtitle
Download Indonesian Subtitle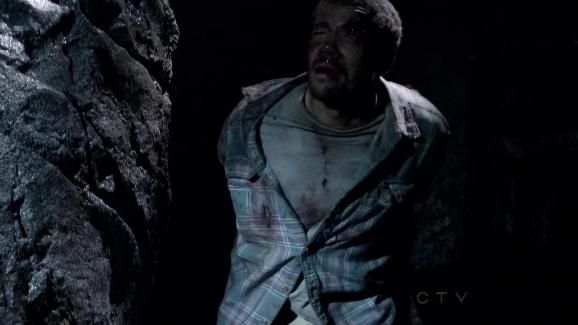 EPISODE 15: DODGER
Synopsis
Open
with a museum guard helping a man steal a large jewel because an
explosive device was placed around his neck. Felicity is concerned by
Queen's decisions with regard to going after people on the list. We
flash to the island and Queen bringing water to Wilson whose bullet
wound is getting infected. Queen remembers some herbs Fei had in the
cave that "healed everything." He leaves to get them.
Download English Subtitle
Download Indonesian Subtitle

EPISODE 16: DEAD TO RIGHTS
Synopsis
Open
with an assassin named Barrera arriving in town via helicopter. Arrow
is waiting and the two proceed to fight, with Arrow eventually killing
him with an arrow to the chest. Digs is helping to train Felicity so she
can handle herself in tough spots. Queen returns and asks Felicity to
hack his phone so they can find out who Barrera was in town to kill.
During an island flashback Queen and Wilson talk about how they might be
able to get off the island. Wilson thinks there's no way, while Queen
suggests taking a stab at fixing the airplane radio.
Download English Subtitle
Download Indonesian Subtitle

EPISODE 17: THE HUNTRESS RETURNS
Synopsis
Helena
is back to seek vengeance, but Oliver still has feeling toward her. The
Arrow must stop and kill her, but at what costs? Now that several of
his closest friends know about his true identity, no one is safe.
Download English Subtitle
Download Indonesian Subtitle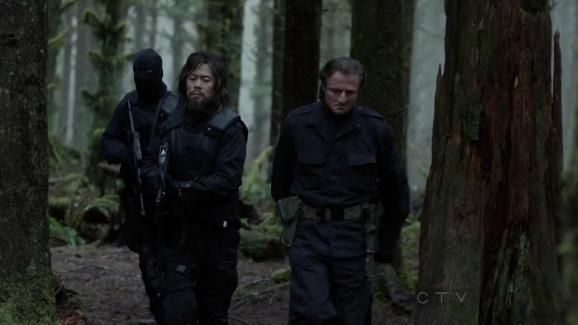 EPISODE 18: SALVATION
Synopsis
An
angry resident of The Glades who calls himself "The Savior" embarks on a
kidnapping and killing spree to punish those he believes have wronged
the residents of his neighborhood. To make things worse, he broadcasts
these murders online and claims he was inspired by Arrow's vigilantism.
Oliver is horrified by this statement and vows to stop "The Savior," but
his manhunt in intensified after Thea comes to him in tears and tells
him Roy has been kidnapped. Laurel is surprised when her father starts
to believe her mother's claim that Sara is still alive. Meanwhile,
Malcolm tells Moira to find the person responsible for his attempted
murder.
Download English Subtitle
Download Indonesian Subtitle

EPISODE 19: UNFINISHED BUSINESS
Synopsis
When
a young woman meets a violent death after partying at Verdant,
Detective Lance and his new partner, Detective Hilton inform Oliver and
Tommy that she was on the drug Vertigo. Oliver immediately pays a visit
to the mental institution where The Count is locked up, but finds he is
in no condition to deal drugs. However, when The Count escapes and
Starling City is flooded with even more Vertigo-related violence, Oliver
and Diggle make it their mission to track him down. After Detective
Lance uncovers incriminating evidence against him, Tommy goes to great
lengths to clear his name, and the fallout from his actions leads Tommy
down a new, unexpected path. In a flashback to the island, Oliver
recalls the lessons he learned from Slade and Shado.
Download English Subtitle
Download Indonesian Subtitle

EPISODE 20: HOME INVASION
Synopsis
Deadshot
returns to Starling City after taking down a U.S. Ambassador and six
others overseas. By keeping tabs on A.R.G.U.S's manhunt for the
assassin, Oliver, Diggle, and Felicity learn that a sting operation is
underway to capture Deadshot – alive. Diggle is determined to see his
brother's killer dead, with or without Ollie's help. Meanwhile, Laurel
takes drastic steps to protect a young witness, exacerbating friction
between Tommy and Oliver. Later, Roy Harper unconventionally pursues all
leads to find his new hero, but runs afoul of Detective Lance. Back on
the island, Oliver recalls how Shado helped him incrementally gain
confidence with a bow and hit the target for the first time.
Download English Subtitle
Download Indonesian Subtitle

EPISODE 21: THE UNDERTAKING
Synopsis
Finding
it difficult to mend fences with Tommy and Diggle, Oliver instead
focuses on crossing another name off the list. While digging through a
crooked accountant's laptop, Felicity discovers a transaction that could
help Oliver find Walter. To reconfirm the lead, Oliver gambles that
Felicity can be counted on in the field for the first time. In a
flashback, Malcolm reveals to Robert Queen and Frank Chen painful
details surrounding his wife's murder, and how that shaped his plans for
the Glades. Meanwhile, Tommy stuns Laurel with the truth.
Download English Subtitle
Download Indonesian Subtitle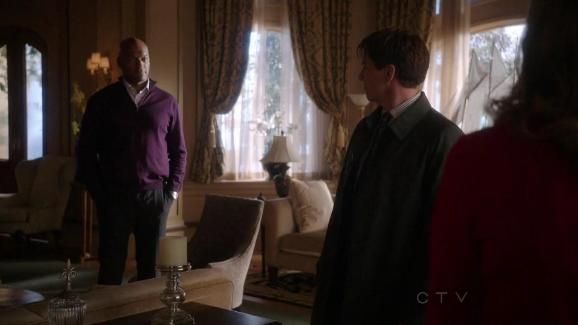 EPISODE 22: DARKNESS ON THE EDGE OF TOWN
Synopsis
With
the Undertaking days away, Malcolm dons his black hood to conclude
business with seismologist Dr. Brion Markov and his team. Oliver and
Moira entertain a number of surprise – and mostly unwelcome – visitors.
Hooded confrontations at home and the Meryln Global Group reveal dark
secrets. Meanwhile, Roy and Thea are still looking out for a hero.
Laurel makes a decision after Tommy's revelation. In a flashback to the
island, Oliver, Slade and Shado struggle to prevent Fyers from shooting a
Ferris Air jet out of the sky.
Download English Subtitle
Download Indonesian Subtitle

EPISODE 23: SACRIFICE
Synopsis
Oliver
and Diggle race to stop the Dark Archer from unleashing his vengeance
on The Glades. However, they run into a roadblock after Detective Lance
picks up Felicity for questioning. Tommy and Oliver's already tumultuous
relationship takes a turn for the worse after Oliver makes a confession
about Laurel. After hearing of the danger in The Glades, Thea races to
find Roy, inadvertently putting herself directly in the line of fire for
Malcolm's devious plan. On the island, Oliver, Slade and Shado are
locked in a life-or-death struggle against Fyers as his missiles lock on
a full Ferris Air jetliner.
Download English Subtitle
Download Indonesian Subtitle
Views: 3876
Genre: Uncategorized